Backstreet Boys
Celebration of 20+ Years

04.01.2016 Dead 7 premieres on SyFy.
05.10.2016 Cruise number 5, the first European cruise, sets sail with a sold out ship.
05.13.2016 BSB breaks the Guinness World Record for the most nationalities in a hot tub.
06.05.2016 The boys perform on Miss USA.
07.07.2016 Meghan Trainor performs 'I Want It That Way' with BSB on Greatest Hits.
08.19.2016 The boys are featured on 'God, Your Mama, And Me,' a new track from the band Florida Georgia Line.
01.29.2015 US premiere of 'Show Em What You're Made Of.'
02.26.2015 International premiere of BSB The Movie in London.
04.10.2015 Brian & Kevin inducted into the Kentucky Music Hall of Fame.
05.19.2015 The boys bring the 'In A World Like This' tour to Israel - performing three shows to sold out crowds. This was the first time the band had ever performed in Israel.
11.23.2015 Nick finishes 2nd on Dancing With The Stars
04.13.2014 BSB win their first MTV Movie Award for Best Musical Moment for their appearance in 'This Is The End.'
04.15.2014 'In A World Like This: Deluxe Edition' is released in North America
10.24.2014 BSB Cruise # 4 sets sail
04.20.2013 The band holds a special 20th Anniversary Fan Celebration live from Hollywood.
04.22.2013 BSB receives a star on the Hollywood Walk of Fame.
05.05.2013 The 'In A World Like This' world tour begins in China.
06.12.2013 BSB make a cameo in the comedy 'This Is The End.'
07.18.2013 The band premieres the 'In A World Like This' music video on Good Morning America
07.30.2013 The band's first album since Kevin rejoined, 'In A World Like This,' is released. The album debuted at number five on the US Billboard 200, making the Backstreet Boys the first act since Sade to have nine US top 10 albums, and the only boy band to do so.
07.31.2013 BSB perform to over 20,000 people at The Grove in LA.
08.02.2013 The US Leg of the IAWLT Tour kicks off in Chicago
10.25.2013 BSB Cruise #3 sets sail from Miami
11.19.3013 Music video for 'Show Em What You're Made Of,' the second single off of IAWLT, is released
04.20.2012 First show of the NKOTBSB Europe, Asia, and Australia Tour
04.29.2012 Kevin Richardson returns to the band
08.31.2012 BSB performs on Good Morning America's Summer Concert Series as a five-piece. This is the largest crowd GMA has ever had.
11.6.2012 "It's Christmas Time Again" released
04.11.2011 The world's biggest boy band supergroup, NKOTBSB, is officially formed
05.24.2011 The NKOTBSB album is released; the album debuts at number seven in the US
05.25.2011 North American leg of the NKOTBSB tour begins, selling out 50 cities
12.25.2011 BSB Cruise #2 sets sail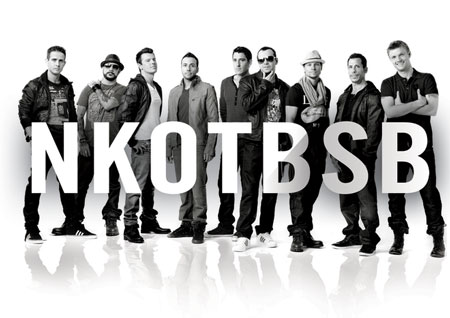 08.27.2009 "Straight Through My Heart" released as a single
09.30.2009 "This Is Us" album released -- Album #7
10.30.2009 "This Is Us" worldwide tour starts in Portugal
11.29.2009 "Bigger" released as a single
12.30.2009 BSB sells out their first cruise
01.28.2008 "Helpless When She Smiles" released as a single in the US
02.16.2008 "Unbreakable" tour starts in Tokyo, Japan
08.27.2007 "Inconsolable" released as a single in the US
10.24.2007 "Unbreakable" album released -- Album #6
2006 Favorite Pop Act at the MTV Asia Awards
01.26.2006 "I Still..." released as a single
06.06.2006 Kevin Richardson announces he is leaving Backstreet Boys
03.21.2005 First date of the "Up Close And Personal" Tour
04.01.2005 "Incomplete" released as a single
06.14.2005 "Never Gone" released and soon later certified platinum -- Album #5
07.22.2005 "Never Gone" worldwide tour kicks off in Florida
10.04.2005 "Just Want You To Know" released as a single
2002 Best Group at MTV Music Video Awards Japan
2002 Favorite Video at the MTV Asia Awards for "The Call"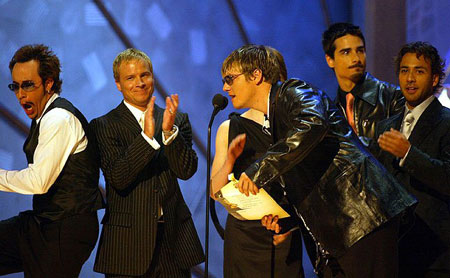 2001 Peoples Choice Favorite International Group at the MuchMusic Awards
2001 Favorite Pop/Rock Band, Duo or Group at the American Music Awards
01.22.2001 "Black & Blue" tour kicks off in the US
01.28.2001 Performed the American National Anthem at Super Bowl XXXV in Tampa, FL
02.06.2001 "The Call" released as a single
04.01.2001 "More Than That" released as a single
10.16.2001 "Drowning" released as a single
10.23.2001 "The Hits: Chapter One" album released
2000 Best Group at the MTV Europe Music Awards
2000 Favorite Pop/Rock Band, Duo or Group at the American Music Awards
2000 Best-Selling Album (Foreign or Domestic) at the Juno Awards for "Millennium"
2000 Favorite Musical Group at the People's Choice Awards
2000 Choice Album at the Teen Choice Awards for "Millenium"
05.16.2000 "The One" released as a single
10.03.2000 "Shape Of My Heart" released as a single
11.21.2000 "Black And Blue" is released, selling over 1.6 million copies in the US in its first week and soon later certified platinum -- Album #4
1999 Music Video of the Year at the Teen Choice Awards for "All I Have To Give"
1999 Favorite Song at the Nickelodeon Kids Choice Awards for "Everybody (Backstreet's Back)"
1999 Favorite Pop/Rock Band, Duo or Group at the American Music Awards
01.01.1999 First Grammy nomination for Best New Artist of 1998
02.01.1999 "Backstreet Boys" certified as a Diamond album in the U.S.(10,000,000 units sold)
06.02.1999 First date of the "Into The Millennium" Tour
04.12.1999 "I Want It That Way" released as a single
05.18.1999 "Millennium" is released and sets the record for first week sales in the US, selling 1.1 million copies -- Album #3
09.03.1999 "Larger Than Life" released as a single
12.21.1999 "Show Me The Meaning Of Being Lonely" released as a single
12.30.1999 BSB dominates the 1999 Billboard Music Awards, winning Artist of the Year, Album of the Year, Album Artist of the Year, and Album Artist Duo/Group of the Year
1998 Group Album of the Year at the Billboard Awards for "Backstreet Boys"
1998 Peoples Choice Favorite International Group at the MuchMusic Video Awards
1998 Best Group Video at the MTV Video Music Awards for "Everybody (Backstreet's Back)"
1998 World's Best-Selling Dance Artist at the World Music Awards
01.13.1998 "All I Have To Give" released as a single
10.07.1998 Declared "Backstreet Boys Day" in Orlando, FL. The Boys receive the keys to the City from the mayor of Orlando in honor of the tornado relief concert the group headlined in March that raised over $250,000
1997 MTV Select Award at the MTV European Music Awards for "As Long As You Love Me"
02.24.1997 "Anywhere For You" released as a single
06.30.1997 "Everybody (Backstreet's Back)" released as a single
08.11.1997 "Backstreet's Back" is released -- Album #2
10.21.1997 "As Long As You Love Me" released as a single in the US
12.27.1997 BSB heads out on a 60-city, 20-country tour
1996 MTV Select Award at the MTV European Music Awards for "Get Down "You're The One For Me"
04.30.1996 "Get Down (You're The One For Me)" released as a single
05.06.1996 Their first album, "Backstreet Boys", is released
10.14.1996 "Quit Playing Games With My Heart" released as a single
1995 First Smash Hits Award for Best New Tour Act
09.05.1995 "We've Got It Goin' On" released as a single
12.13.1995 "I'll Never Break Your Heart" released as a single
04.19.1993 Brian Littrell is called away from his American History High School class to answer a phone call from cousin Kevin Richardson asking him to audition for an up-and-coming group. Brian auditions over the phone and finds himself on a flight to Orlando, FL the next day.
04.20.1993 Backstreet Boys officially become a band
05.08.1993 The Boys perform their first big show together at Sea World in Orlando, FL to a crowd of more than 3,000
Summer 1993 The Boys continue to perform in a variety of venues from shopping malls to charity events accross Florida