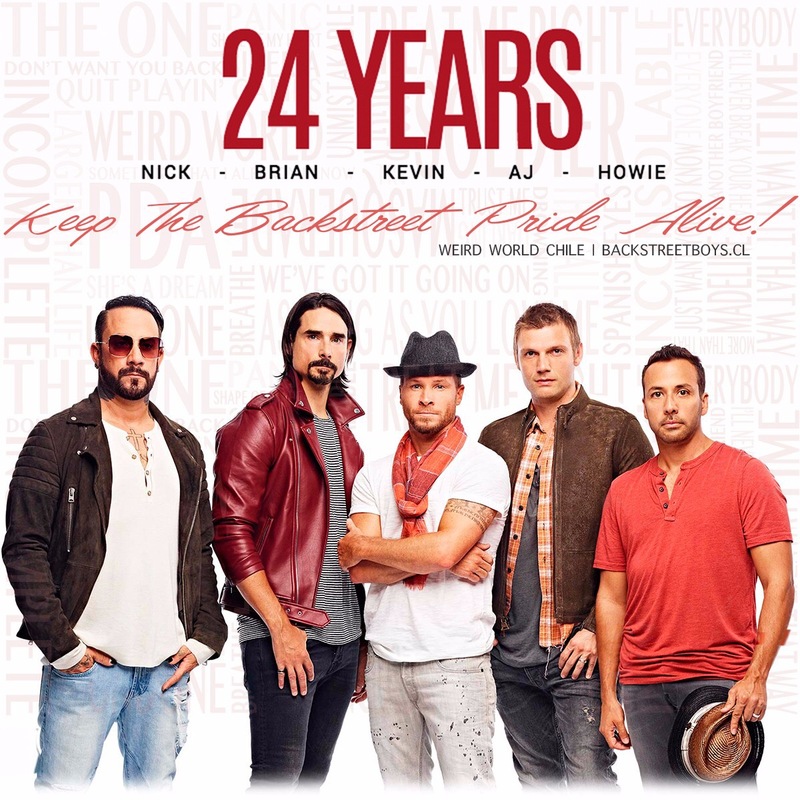 Feliz 24° Aniversario Backstreet Boys
Backstreet Boys es la banda sonora para muchas vidas, es la necesidad de querer compartir, disfrutar y encantarse bajo la tierna melodía de sus voces."
Han transcurrido 24 años desde que finalmente se formó la banda que hasta hoy conocemos. No hay necesidad de narrar todo lo que han pasado en su larga carrera para llegar a convertirse en uno de los grupos más exitosos de todos los tiempos. Su historia musical está llena de elogios y de una continuidad constante, la que a pesar de la ignorancia de muchos, jamás ha tenido un descanso y un fin. Entre álbumes y giras la familia creció, se fortaleció con sus seguidores hasta consolidarse dentro de su estilo.
A los chicos, queremos agradecer por seguir aquí y mantener esta complicidad con sus fans. La música es nuestro lenguaje y nos ha unido con el tiempo. No importa el idioma, nacionalidad ni distancia que puedan separar este sentimiento que se alimenta día a tras día. Somos una familia enorme, del que hemos aprendido a diferenciarnos, ser críticos y honestos; pero por sobre todo, somos una familia irrompible del que muchos quisieran igualar. No es fácil sobrevivir 24 años y mantenerse intactos, es gracias a su talento, su disciplina, tolerancia, humildad y el respeto mutuo que existe entre ellos como artistas y nosotros como sus fans. Simplemente son los mejores!
Esperamos que este nuevo aniversario les traiga mucha más bendiciones, alegrías y triunfos en su carrera. Nos sentimos orgullosos por lo que son hoy, y por la forma en cómo los ven ahora. Grandes hombres, grandes profesionales y grandes ídolos!
Keep The Backstreet's Pride Alive!
From South America:
Here, a humble effort performed by some of our girls from "Weird World Chile". We would like to thank the ones that enjoyed this project, to the ones that were interested in participate, to the ones that dedicated their time and ideas, to the ones that couldn't but wanted to be part of it and of course, to the ones that enthusiastically finished it and demonstrated so much love and passion.
This goes with our love for our 5 amazing boys!